Going to WCI? Check out these Great Restaurant Options In & Around Orlando World Center Marriott
Restaurants Nearby the Marriott
Staffing shortages have permeated the restaurants in and nearby the Marriott in Orlando, thus many restaurants have limited hours and days. We at Kingstree have put together a list of places to dine and potentially entertain clients near and around the WCI conference. We strongly recommend calling restaurants beforehand to verify they are serving and determine whether reservations are needed.
The Kingstree Groups' Eric Patten, SVP Business Strategy along with Charles Lieble, AVP Sales & Development and Tammy Martin VP of Client Services, are enroute to the Workers' Compensation Institute (WCI) at the Orlando World Center Marriott on 12/12/2021 – 12/15/2021!
We are excited to meet leaders in the risk community as well as seeing friends, clients and meeting potential new clients. Please reach out to Eric if you would like to schedule a meeting to learn more about the Kingstree Group and what we can do for you. (epatten@kingstree.net)
Orlando is such a great city for conferences, we've put together some ideas for great restaurants to enjoy during or post conference!
1. La Luce is a modern Italian country kitchen that serves traditional Italian food, Mediterranean drinks, thin crust pizzas and much more. They pride themselves in using the freshest ingredients to create tasty gourmet meals. They also have a Trattoria-style wine menu and several signature drinks.
Address: 14100 Bonnet Creek Resort Ln at Hilton Orlando Bonnet Creek, Orlando, FL 32821
Contact #: 407-597-3676
Opening Hours: Tue – Sat 6:00 PM – 10:00 PM
Distance from Marriott: 9 Minutes

2. Johnnie's Hideaway is a restaurant that serves up the true Florida experience. The menu features fresh fish and USDA Prime & Choice steaks that are dried and aged on the premises. The pandemic has not cut their spirit but encouraged them to enhance their cleaning, sanitization, and overall dining experience so you can feel safe. They also offer private dining for meetings or events. There is no reason to miss out on their 'Floribbean' flavors.
Address: 12551 State Road 535, Orlando, FL 32836-6724
Contact #: 407-827-1111
Opening Hours: Mon – Thurs 5:00 PM – 10:30 PM
Fri – Sat 5:00 PM – 11:00 PM
Sun – 5:00 PM – 10:30 PM
Distance from Marriott: 9 Minutes

3. Blaze Pizza is just as the name suggests: blazing fast service. You pick your toppings and then the pizza is thrown in the oven and cooked at a high temperature for three minutes. The rapidly growing California based fast-casual pizza chain serves pizzas that are crafted with everyone in mind. In addition to traditional toppings, Blaze Pizza has toppings like savory fire-roasted squash and smoky bacon, completed by their fiery maple drizzle. The pizzas are fully customizable to your liking, making them pizzas you won't regret trying.
Address: 1508 E Buena Vista Dr Lot B-22, Orlando, FL 32830-8431
Contact #: 407-560-9171
Opening Hours: Sat – 11AM–12AM
Sun – 11AM–11PM
Mon – Thurs 11AM–11PM
Distance from Marriott: 9 Minutes

4. Chef Art Smith's Homecomin' is located in the heart of Disney Springs. Not only is Chef Art an experienced personal chef, having been Oprah's personal chef for years, but he has set up several restaurants across the country. Florida is his home and now he shares it's rich culture through his excellent cuisine. He highlights local ingredients to give you a farm-to-table experience. The menu has traditional dishes done right, like fried chicken and shrimp, and their popular moonshine which is mixed into cocktails.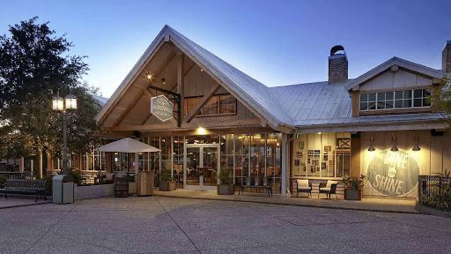 Address: 1602 E. Buena Vista Dr., Orlando, FL 32830
Contact #: 407-560-0100
Opening Hours: Mon – Fri 11:00 AM – 10:00 PM
Sat – Sun – 09:00 AM – 10:00 PM
Distance from Marriott: 12 Minutes

5. The Boathouse offers American cuisine, primarily seafood and steaks. They offer waterfront dining at its best with plenty of options to choose from. There are three outdoor bars serving craft cocktails and rare vintage liquor for you to relax and unwind. It's an upscale restaurant famous for its great views and mouthwatering menu. ​​They also offer 20-minute guided tours on the waters of Lake Buena Vista while riding in a vintage Amphicar— an amphibious vehicle that drives on land and floats on water. If you want to do something more relaxing after your meal, simply stroll along the boardwalk and enjoy a breathtaking sunset.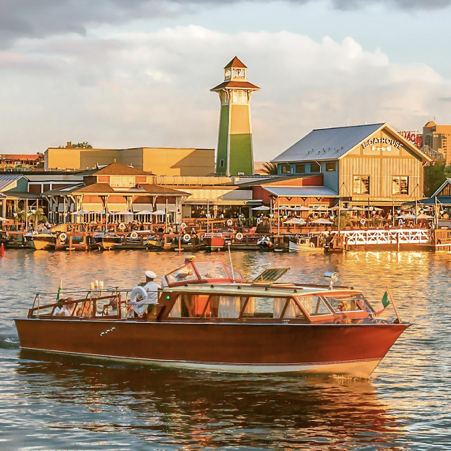 Address: 1620 E Buena Vista Drive Disney Springs, Orlando, FL
Contact #: 407-939-2628
Opening Hours: Mon – Sun – 11:00 AM – 10:30 PM
Distance from Marriott: 12 Minutes

6. Bull and Bear Steakhouse Located in Waldorf Astoria Orlando. It has a clubby environment perfect for entertaining clients. Bull and Bear was named in the top 100 restaurants to eat in the US by OpenTable. They have personalized table service to go along with their very diverse menu. They serve up meals like pan seared sea bass, Veal Oscar and filet mignon. B & B also has great cocktails and deserts, to give you the full experience in their beautiful dining space. Reservations are recommended.
Address: 14200 Bonnet Creek Resort Ln, Orlando, FL 32821, United States
Contact #: 407-597-5413
Opening Hours: Tue – Sun – 6:00 PM – 10:00 PM
Distance from Marriott: 13 Minutes

7. Vine's Grille and Wine Bar Vine's is a high-end steakhouse with nightly live music. Their modern, upscale restaurant can accommodate private dinners and even corporate events. Their dinner options include shellfish platters and charcuterie boards, and prime wood-fired steaks. They focus on providing excellent food, service, and ambiance. Their menu also has a fine selection of wine, craft beers and cocktails. Reservations are recommended.
Address: 7533 Sand Lake Rd, Orlando, FL 32819, United States
Contact #: 407-351-1227
Opening Hours: Monday – Thursday – 4:00 PM – 12:00 AM
Friday – 4:00 PM – 2:00 AM
Saturday – 4:00 PM – 1:00 AM
Sunday – 4:00 PM – 1:00 AM
Happy Hour: Every day from 4PM – 7PM
Distance from Marriott: 13 Minutes
Restaurants Inside the Marriot
1. Starbucks – Not all Starbucks are the same. This one has rave reviews and great ratings. It is a spacious full-sized cafe that has dining and great decor. Most of us can't live without coffee occasionally for that energy boost; why not go to the best and the closest source? Have your favorites like ham, egg and cheese sandwiches, bagels, lattes and teas. They offer great service but prepare to pay a little more at this location.
Contact #: 407-238-8852
Opening Hours: Sat-Sun 7:00 AM-12:00 PM
Mon-Fri 7:00 AM-1:00 PM
Located in Marriott